NW Bulldozing & Hydroseeding LLC provides professional and affordable hydroseeding services to contractors and home owners in Kitsap County, King County, Pierce County and Mason County Washington including; Bremerton, Bainbridge , Silverdale, Belfair, Tacoma, Port Orchard, Gig Harbor, Shelton, Lakewood, Spanaway, Puyallup, Federal Way and surrounding areas. We specialize in hydroseeding, allowing you to have the perfect lawn you've always dreamed of. You can have a beautiful new lawn at a fraction of the cost of sod with our hydro-seeding process.


Hydroseed Pricing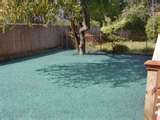 Hydroseeding is priced on a per sqft basis and prices vary depending on the size of the job, site accessibility and water availability. Measure the area you need hydroseeded and give us a call, we can give you a quote over the phone or you can fill out the form below with the job details and we will get back to you within 24hrs.

Call for free estimate
360-204-2362
---
Our Guarantee

If your Hydroseeded lawn does not establish properly, for up to one year, because of product or workmanship,
those portions of the lawn that are not growing will be re-seeded, at NO COST! Be sure to water, fertilize and
maintain your new lawn as directed on our website. Maintaing your new lawn. If your lawn is not watered, fertilized and maintained as directed, the Warranty is void. The Warranty does not cover a lawn that has not been properly prepared ,that is washed out because of heavy rain fall, lacking proper growth because of lack of fertilizing, or burned because of over fertilizing, using the wrong fertilizer or the improper use of chemicals. Guarantee applies to hydroseed applied between April 15th anf October 15th.
Serving Tacoma, Kitsap County, Pierce County, Ft Lewis, Bangor, Mason County, Gig Harbor, Bainbridge Island, Belfair, Allyn, Kingston, Port Orchard, Silverdale, Poulsbo, Lakewood, Federal Way, Auburn, Kent, Puyallup, Spanaway, Bremerton, Fife and surrounding areas.